This annual event is all about dressing down, putting one's ego aside for the day and having fun networking with like-minded business people with the greater good in mind. As an invitation-only event, we're a community of guardians changing the lives of local children in need of a financial helping hand. An out-of-the-ordinary charity event that includes adventure and and intimate group, you'll be sure to make new connections and memories to last a lifetime! The first annual event in April 2017 raised over $100,000 with 68 people from all over the USA and Canada!

The Valley guardians raise our donations by offering the most exclusive charity auction in the valley. This event is jam packed with star studded performances, luxury prizes, delicious meals and amazing networking opportunities. The best part? 100% of all the money raised goes directly to help children in the valley.
In One Night, the Valley Guardians raise hundreds of thousands of Dollars for the children in the valley.
Our work has just begun. Together with your donations, we are helping kids that need it most. With your help, we do this by providing and covering medical expenses, education, mentoring, tutoring, school supplies, and more. We are working closely with The Challenge Foundation, Genesis Academy, and Santo Nino Community to change the lives of children, right here, in the valley.

Who Is Behind This Event?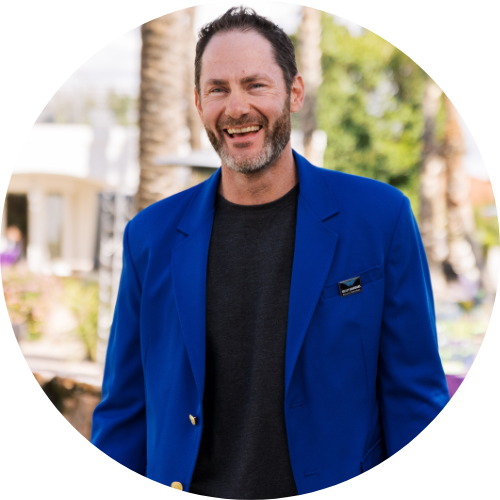 Noah Brocious
Board Member
Noah Brocious is an Arizona native and attended Scottsdale Christian Academy. He then attended California Lutheran University (CLU) and graduated magna cum laude with a BS in Business Administration in 2003 where he played four years of Men's Intercollegiate Basketball.
After graduating he moved back to Arizona and quickly got into real estate and worked in land development for a few years and then worked as a Development Manager for Panattoni Develop-ment in Phoenix. He then re-joined Mike Anderson, who he worked with previously, when Capital Fund was started in 2009. He is currently the President of Capital Fund I, LLC (CFI), a licensed mortgage bank that specializes in short term private money loans for real estate projects for investors, builders, and developers.
He lives in Phoenix with his wife Jenna and their son Bear. They love spending time with friends and family, exercising and traveling when they can get away.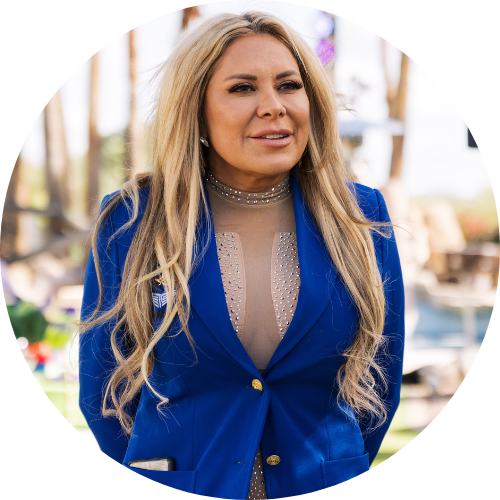 Naidu Vos
Board Member
Naidu Vos, CEO of AZCR Staffing is the heart and soul of the company. Vos brings over 15 years of experience in the construction industry and, while most of her time is spent in business development, she can personally perform all tasks asked of any of her employees.
Her laser-sharp determination to build a solution that benefits all parties is a true differentiator from her competition. Although AZCR Staffing employs over 300, Vos prides herself on knowing everyone of her employees and staff personally.
Her approach is to find each employee's unique strength so that the right skill sets are placed within a construction project. The results benefit the client, the employee, and AZCR Staffing as a whole.
She also serves as a board member of The Valley Guardians. A 501(c)3 organization that helps children in the valley by offering education, mentorship and resources to arm them with an opportunity to achieve their full potential for success.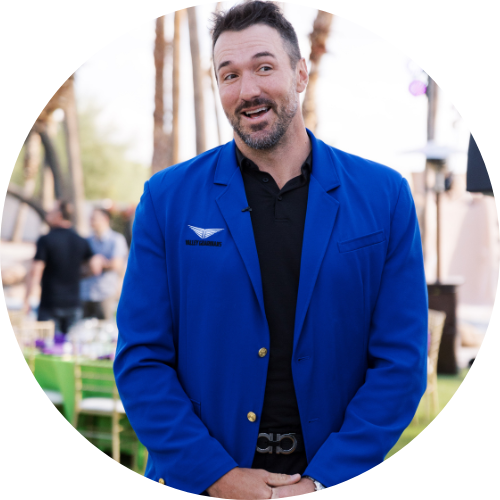 Loren Howard
Board Member
Loren is the Chief Manager, and Founder of Prime Plus Mortgages. Loren and his companies have been actively involved in financial services and the hard money lending space in Arizona for more than three years. He is a proud member of the Entrepreneurs Organization's Arizona Chapter, and the President of the Valley Guardians.
A serial entrepreneur, he created a successful national advertising firm that catered to large national corporate clients. Loren's success carried over into several verticals that included both the education and health care industries.
Loren also boasts a decorated football career, and was awarded the following: The Freshman All American Defensive End, The Big Ten Defensive Freshman Of The Year, All-Conference Defensive End, and Junior year Pre-season Mel Kiper ranked him the second defensive end to go in the draft. When his decorated football career at Northwestern University was cut short due to injury, Loren ventured into business for himself.
More recently, Loren extended his athletic pursuits in the challenging world of indoor rowing and now holds world records in the following: 500m, 100m, and 1:00 max distance.
Loren and his wife Diane reside in Paradise Valley, Arizona and they've welcomed their first son, Hunter, in September 2019.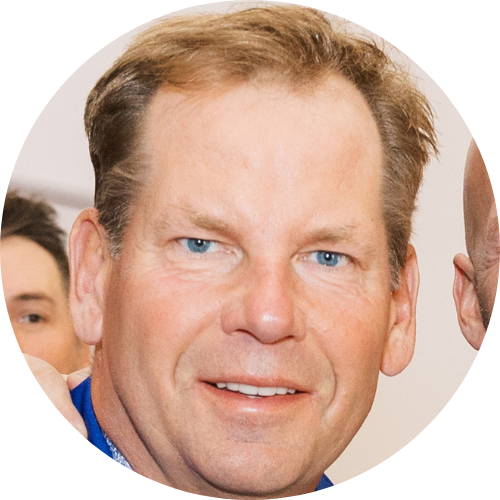 Matt Massick
Board Member
I've been a high performing executive in enterprise technology solutions for 20 years. I am a dynamic, highly motivated, and well-rounded professional with proven experience in scaling fast growing businesses. I have demonstrated the ability to recruit and develop high caliber, self-motivated professionals into amazing teams.
Specialties:
· Strategic Planning and Execution
· Personal and Professional Development
· Multi-Disciplinary Skill Set
· Problem Solving
· Venture Capital, Mergers & Acquisitions
Accomplishments:
· Grew Central US Market at EMC Corporation by 50% Y/Y for 5 Years
· Recruited and Hired Hundreds of Sales, Technical, Operations and Finance Professionals
· Scaled a Startup from five employees into a $140m Enterprise and Subsequently Sold to a Global Publicly Traded Organization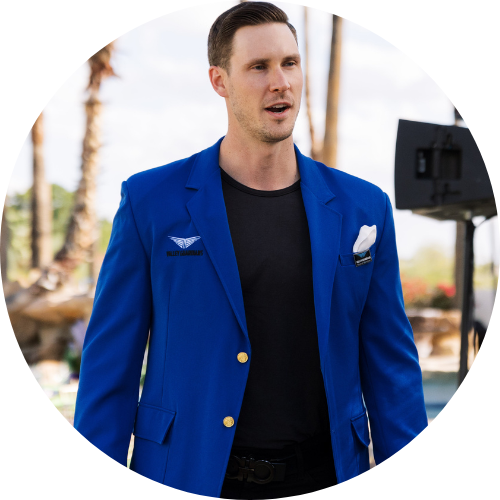 Kyle McGinley
Board Member
Kyle McGinley works with Ross Brown Partners and MainSpring Capital Group in the real estate brokerage, asset management and development industries.
Kyle started off at the age of 16 with desires to own high end vehicles. Quickly realizing that required capital, Kyle started a high-end watch wholesale company. After 3 years in operation, that business grew into a hard money lending and debt consolidation company.
In 2015 Kyle started with Ross Brown as he took his love for making deals to the commercial real estate industry. His attention to detail, follow up, willingness to always do the right thing, and loyalty and honesty with clients has led him to transact more than $1B in leasing and investment sales and purchasing over the past 7 years.
Kyle serves The Valley Guardians organization and loves to help those with an entrepreneurial spirit. His want to give back is reflected both in business and philanthropy.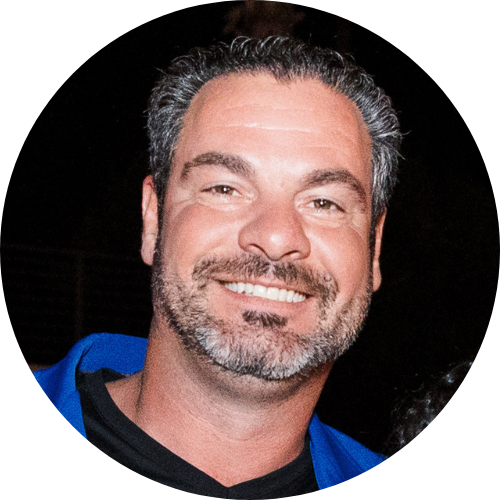 Jess Trader
Board Member
From first-time buyers to complicated refinances, Jess Trader, the Branch Manager at Security National Mortgage Company has seen it all. In his tenure, he has been a Top Producer, Branch Manager, and has closed thousands of loans for his clients throughout his career.
Jess was born in Los Angeles, California and grew up in Prescott Valley AZ. Jess considers himself an Arizona native and brings his depth of knowledge and an individualized approach to help serve his clients in the valley.
He is always finding ways to give back to his hometown and serves as a current board member for Valley Guardians and The Challenge Foundation, two incredible organizations that work to serve youth who are in need of a helping hand in the valley.
When not closing mortgages, Jess spends his time with his wife Lauren, and has a 1 year old son. He also enjoys traveling, hunting, golfing, MMA and hanging out with his friends.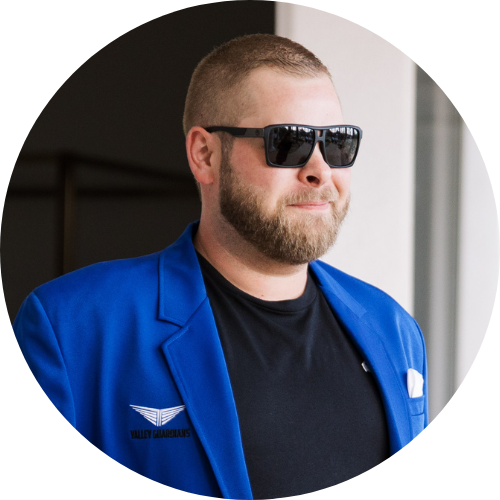 James Hudye
Board Member
James Huyde is the Vice President of The Huyde Group, and Board member of the Valley Guardians.
From a very early age, James took interest in the family business and building lasting relationships.
James is particularly proud to have helped lead Hudye Soil Services to its win as Retailer of the Year in Canada in 2011.
Currently a director of the Hudye Group, he uses creative thinking to resolve current issues and anticipate future challenges.
James is proud to be a part of multiple teams that fundraise for worthy causes.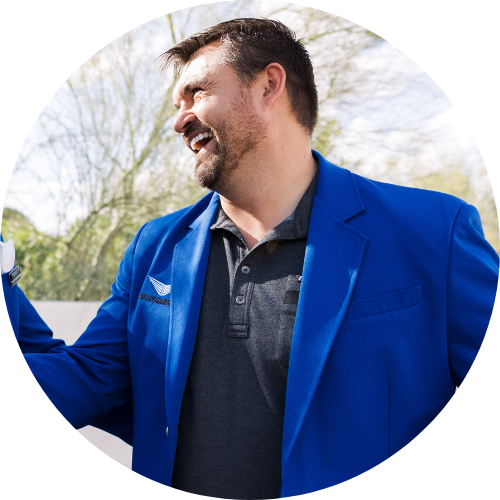 Darcy Hordichuk
Board Member
Darcy Hordichuk was born and raised in Kamsack, SK Canada, a town of 2500 people, no stop lights and nothing around for miles. The winters would get as cold as -40 degrees F. With the odds stacked against him, he always dreamt of playing hockey in the NHL. Darcy began playing hockey in his hometown at age 5 and never looked back.
Darcy fulfilled his dreams and played in the NHL for 13 years, 6 different hockey teams, 542 games and 1140 penalty minutes. His time in the penalty box was because he always let his fists do the talking. Darcy was one of the top Enforcers in the league who was not expected to do much scoring but instead wreak havoc on the ice and protect his teammates.
After retiring from the NHL in 2013, Darcy took on a career in Private aviation with Jet Linx, flying individuals around the world on private jets. He also developed a company called Canada to Arizona, which provides many services for Canadians coming to AZ. In addition, he is a member of the Thunderbirds in Arizona, which is an organization that has raised over $147 million dollars since inception and the money always goes towards helping Arizona kids.
Darcy and his wife Lisa live in Scottsdale with their two active boys, Braden (11) and Declan (8). They stay busy with their kids sports and activities and are so glad to call Arizona home. Darcy has realized over the years that life's not about fame and fortune, instead it's about giving back and helping to impact and change lives. Darcy is very proud to be a part of the Valley Guardians, which does exactly this.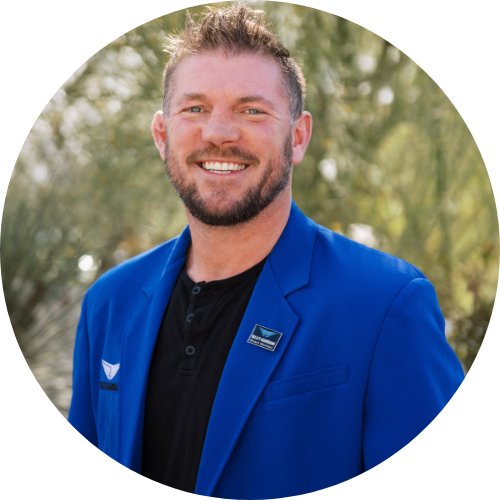 Chris Gruler
Board Member
Chris Gruler is a former 3rd overall, 1st round draft pick by the Cincinnati Reds out of high school. His career was cut short due to injuries, but while playing he started Protege Branding, a storytelling, development, and marketing agency here in the valley.
Chris started the agency in 2007 with the intent of branding athletes off the field. His first few clients consisted of HOF baseball players and an olympic sprinter. He began focusing on assisting businesses creatively tell their stories online and how to bridge the purchasing gap from the end-user to the business and it's products.
Chris also has added being a professional boxer to his list of accomplishments in 2017 but realized Protege is his professional passion. He still boxes to this day and has an 8-month-old daughter, Layla, with his beautiful wife, Karlea. Chris lives in Gilbert.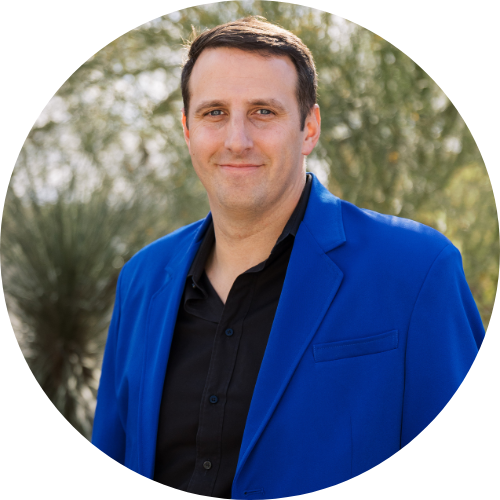 Michael Baer
Board Member
Michael started his first business when he was 12 years old selling cherries at his mother's orchard in North Eastern Oregon. Since then, he has shown the extent of his leadership and dedication throughout multiple industries time and time again. After attending college, he began his next business venture which sold car waxes and cleaning products to auto dealerships.
2 Years later, Baer sold and re-invested into his next success, a trucking company, which he grew over the course of 10 years into a successful asphalt paving business in Columbus Ohio. Michael is an avid philanthropist, and has served over 10 years as a Board member for Habitat for Humanity, and is an active member on the Board of Governors of Boys and Girls Club since 2015.
After building and selling a successful business Michael moved back to Arizona and shifted his focus to what he believes "really matters", raising amazing kids and helping others.
I have always been drawn to two types of charities. Children charities, as it helps those that are too young to help themselves. Children are our future and it's our obligation to make sure that they are guided on the right path and to keep them out of harm's way. The second, military and first responders. They give the ultimate sacrifice, are selfless, and we owe these men and women more than we can possibly give."
Michael is happily married to his wife Alisha and has two children, Edward and Makena.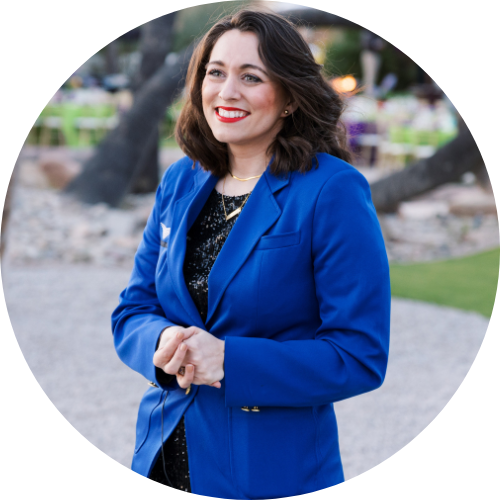 Catherine Way
Associate Guardian
Catherine Way is the Marketing Manager at Prime Plus Mortgages. Born lucky number 7 in a family of 11, (7 brothers, 3 sisters) you could say she learned at a young age the importance of communication. From making your voice stand out from the crowd, to listening and making others feel heard, she took this childhood lesson and transformed it into a fun and exciting career involved with Hospitality, Photography, Social Media, Graphic Design, but most importantly, Real Estate, and Marketing.
She learned that hard work and determination is the best way to get ahead, and has never been one to waste time. She completed an Advertising and Design BA from Michigan State University in less than 4 years, and has been hard at work since she was 14. She is an avid self-learner, and a bit of a talker, but prides herself on being as creative as possible. She says she has a great sense of humor, and is extremely easy going, despite the many projects she has at one given time.
Currently she is finding new ways to make beautiful marketing materials, and communicating to clients in exciting new ways to boost engagement. She is always on the search for amazing new ways to connect to people. She does this through modeling, ballroom dance, and road trips with her high-school sweetheart Emery, and son Xavier.