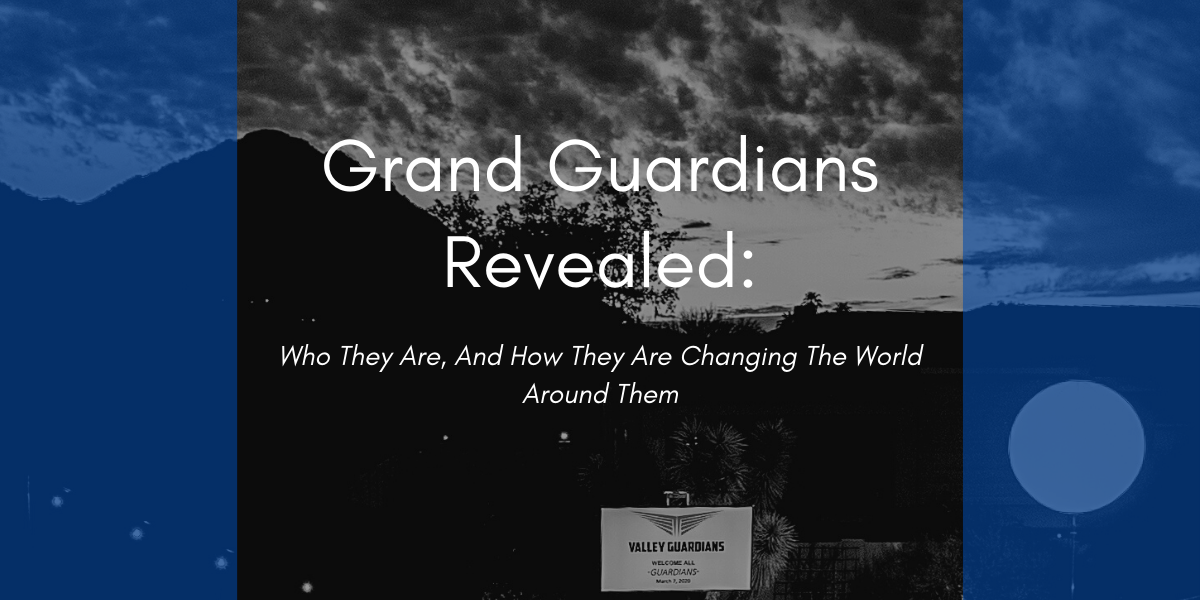 Once a year, prominent businessmen, entrepreneurs, and successful members of the community meet for a charity auction unlike any other. The Valley Guardians is a children's charity that is committed to making an impactful difference to the children in the valley.
The cause? To help children in the valley by offering education, mentorship, and resources to arm them with an opportunity to achieve their full potential for success.
The Valley Guardians is a unique 501(c)3 organization that not only boasts a 0 dollar operating budget, ensuring all donations go directly to the causes, but The Valley Guardians raise most of their donations in one-night auction fundraisers unlike any other.  With Vegas performers, top-shelf drinks, 5-star meals, and at the heart of it all, a great cause. Amid a night of countless donations, and the best networking with like-minded individuals, the crowning glory, the title of the Grand Guardian is awarded!
What Is The Grand Guardian
The Grand Guardian is a recognition of generosity, and a signal of true leadership to those who make an impactful difference in their community, family, and workplace.
This title is auctioned yearly at each Valley Guardians Annual Charity Auction and is one of the most prestigious events in Phoenix. At this intimate invite-only event full of networking, amazing prizes, the exclusive honor of Grand Guardian is awarded!
This honor is held for those in the community who are beacons of generosity, leadership, and selflessness. Grand Guardians are extremely involved in the community, and a force of change for all they meet. Thoughtful leaders, coaches, and mentors to all they meet,  who are constantly changing the lives of those around them.
At this years' auction, The Valley Guardians agreed on who deserved this honor!

The Grand Guardian Of 2020: Naidu Vos
We are excited to announce this year's Grand Guardian, Naidu Vos!
"I was given the opportunity to work and change my life when I came to Phoenix. I want everyone to have the tools they need to succeed, and many people just need a chance to work hard and prove themselves."Said current Grand Guardian, Naidu Vos.
Naidu Vos, is the CEO of AZCR Staffing, where she brings over 15 years of experience in the construction industry and, while most of her time is spent in business development, she can personally perform all tasks asked of any of her employees. Her laser-sharp determination to build a solution that benefits all parties is a true differentiator from her competition.
Naidu goes above and beyond to make a difference in her community not only through her involvement in many charities but with how she operates her own business.
"It's all about hope. Once someone sees they can make a difference in their own life and is given that nudge of encouragement they can see they have a fighting chance. Whether it's a hot meal, a job, or a Christmas gift, it is that twinkle in their eye to keep fighting and it inspires me to keep changing lives." Naidu continued.
Naidu's companies offer extensive job training, which helps her employees learn new skills, and creates better lives and opportunities for themselves in the process.  She is always looking to hire employees who are looking for a chance to prove themselves. Her approach is to find each employee's unique strength so that the right skill sets are placed within a construction project. The results benefit the client, the employee, and AZCR Staffing as a whole.
"Naidu is a constant source of inspiration. She is constantly finding effective ways to make a huge impact on the community. She has led the charge with Santo Nino and is always finding creative ways for us to make a difference." Said former Grand Guardian, Braden Hudye, who currently serves as a board member of The Valley Guardians
When she isn't coaching and leading her team members, Vos devotes her time to The Valley Guardians and is the event director. She works closely with the Santo Nino Community and single-handedly led this year's first-ever Easter Basket initiative. From idea to execution, Naidu is a strong leader, and an inspiration for those to get involved and make a real difference in the community.
"Naidu's work ethic is unparalleled. She has elevated Valley Guardians as the Event Chair, and each year she outdoes herself. She is phenomenal!" added Loren Howard, who is currently President of The Valley Guardians, and previous Grand Guardian himself.
Congratulations Naidu on receiving the honor of Grand Guardian! Thank you for your continued leadership, generosity, and dedication to making a difference!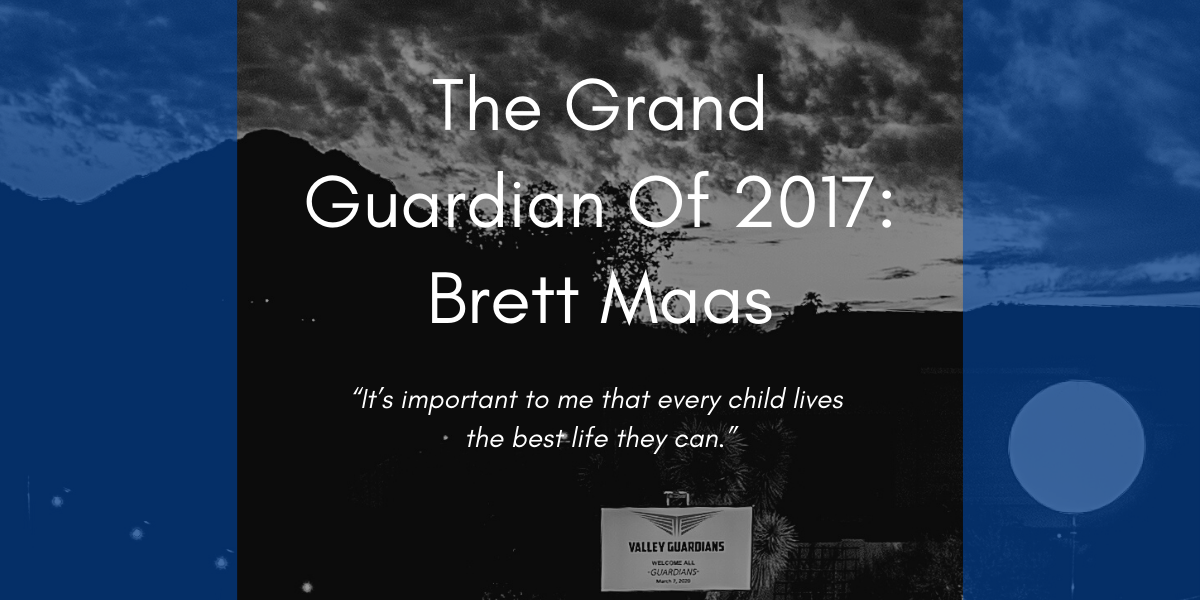 The Grand Guardian Of 2017: Brett Maas
Our first Grand Guardian, Brett Maas, was the first to win the Grand Guardian title. Introduced to The Valley Guardians at our first ever 'desert run' event, Brett, by close friend Matt Blanton.
Brett was inspired by the exciting day of rugged activities, such as Razr rides out in the mountains with a great chance to network with like-minded individuals, have fun, and give back to his community. Not only was his generosity unmatched, but he has also been an advocate for the Valley Guardian Mission since the beginning. He offered endless support and helped define the mission of The Valley Guardians.
"I really enjoyed that every dollar raised went back to the kids who needed it most. While it was amazing to network and have fun with so many fun and exciting people, it meant a lot to see the transparency of where the money was going, and that it was fueling education in the valley. It was so much more than a social club, but I knew we were doing something special that was going to make a lasting difference in the community." Said Brett Maas on why he was so moved to become the Grand Guardian.
Education is extremely important to Brett, who is a founding member of the Sons Of Arizona. A local charity whose mission is to lend a helping hand and give back by inspiring local children, local school systems, charities, nonprofit organizations, and individual kids who just need a little boost to get them where they need to be! They accomplish this mission by supporting education, helping feed children in need of supporting other non-profits who are working to improve children's lives.
"For me, my greatest inspiration and motivation comes from being able to make the best life I can for my children. From the moment I wake up to when I lay my head back down, I am constantly pushing myself to be the best father, role model, and to make a positive impact on everyone in my community." Brett said on the importance of his involvement in these charities."It's so important to me that every child lives the best life they can. By improving education, we can give back to the community and give them the opportunity to make the best lives they can."
Brett continues to find new ways to help build his community through his work with Hayden IR. Brett finds it exhilarating to be exposed to so many different industries, business models, and intelligent people every day. Together they help elevate the profile of micro and small-cap public companies and connect them with the right investors at the right time.
The Grand Guardian Of 2018: Braden Hudye
The second Grand Guardian is no stranger to The Valley Guardians. Braden Hudye, a founding member of The Valley Guardians, won the title of Grand Guardian at the 2nd annual charity event, which was held at the Waste Management Phoenix Open.
"The mission of The Valley Guardians is to be as hands-on with our recipients as possible. We are selective in who we work with and how we continue to lay the foundations of what The Valley Guardians is, and what we want our legacy with The Valley Guardians to be." Said Braden Hudye, who currently serves as the recipient director on The Valley Guardians Board.
"We all feel that The Valley Guardians is more than a one-day event. We are changing lives every day within the community with our recipients and donors' help. With a Zero dollar operating budget, every donation is taken seriously, and we want to make sure that it is used effectively. I am so enthralled with the possibilities with our new partnerships with The Phoenix Children's Hospital, and working closely with the Challenge Foundation. With our continued support and hard work they have evolved and grown in a  dynamic way that can change our community for the better." Braden passionately explained about the influence of The Valley Guardians.
Outside of The Valley Guardians, Braden is a Director of The Hudye Group, which is a dynamic, family-owned and operated real estate and business investment entity headquartered in Scottsdale, Arizona. Braden participates in the Strategic Coach Entrepreneurial Program and is devoted to a range of philanthropic endeavors, with a passion of giving back towards the greater good.
"I feel like we all have unique abilities, and I feel like we should be using them to give back to the greater good. I run my personal and business life to model and grow those around me, and encourage them to pay it forward and give back. I always built it into my time to give back to others.
Thanks to the hard work of Braden, and other board members at The Valley Guardians, who are working hard to build a community, and make a difference for children in the community, while having fun along the way.
The Grand Guardian Of 2019: Loren Howard
Our 3rd Grand Guardian was Loren Howard, who currently serves as the President of The Valley Guardians. Loren is a serial entrepreneur, visionary, and strong leader who has continued to lay the foundation of the legacy of The Valley Guardians.
"As a founding member, nothing makes me prouder as seeing how successful we have become in such a short amount of time. I really want to build The Valley Guardians and continue to change the lives of children who need it most. It is exhilarating to see how many lives we have improved in such a short period of time." Loren said when asked about the importance of The Valley Guardians' mission.
Loren cited Don McFall, The Founder and CEO of The Challenge Foundation as one of his sources of inspiration for the legacy of The Valley Guardians. The Challenge Foundation made it their mission to help end the cycle of poverty, and help at-risk youth realize their full potential. Working Closely with The Valley Guardians, they provide academic opportunities to help children succeed. "Don, and The Challenge Foundation, have made such a real difference on so many lives. To see and work with them has been so inspiring. Don is so generous in his time, and in such an impactful way that you want to model and mimic in your own life after seeing it for yourself." Loren added.
With the amazing feedback, one-of-a-kind networking, and cause like no other, after the First Valley Guardians event, the founding members knew that they had created something that could have a lasting impact on the community.
"The Valley Guardians are larger than all of us. Each donor and board member is contributing to a legacy of charity and real change for the future of our community. Every dollar goes right back to the kids, and can dramatically change the course of their lives." Loren said when asked about the impact The Valley Guardians continues to make.
When Loren isn't leading The Valley Guardians, he can be found coaching other entrepreneurs and business owners, and children here in the valley with the help of the Challenge Foundation. He is also the Founder and President of Prime Plus Mortgages, a hard money lender serving real estate investors in Arizona.
Loren continues to define the foundations and mission of The Valley Guardians through his thoughtful leadership, giving, and mentorship in the community.
Thank You Grand Guardians!
We at The Valley Guardians sincerely thank all of our Grand Guardians for their contributions to The Valley Guardians and our community!
Their unmatched generosity, work ethic, and vision continue to define and shape our community for the better. Thanks to their philanthropic efforts countless lives of children here in Phoenix have been drastically changed, and will continue to change the future of our community.
We are extremely grateful for each of the Grand Guardians for the difference they make in the lives of children in our community and for each of the people in their lives who they positively impact. Thank You For All That You Do!
If You would like to contribute or join The Valley Guardians, Click here. Thank you.