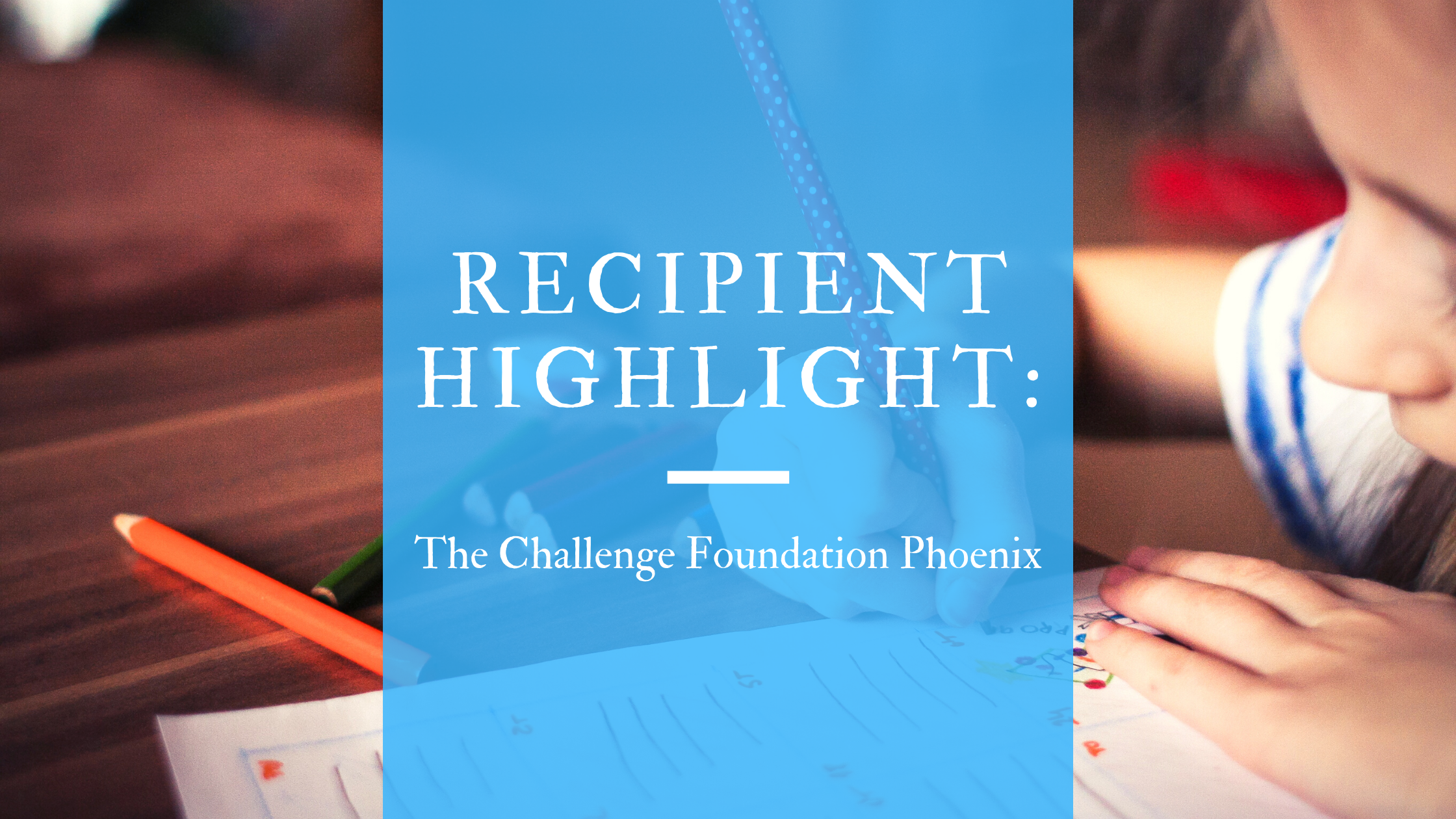 How can you really change a child's life? Many organizations work tirelessly to improve the lives of children across the globe. For many of these organizations they look to improve a child's situation, and by improving their environment, improve their life.
The Challenge Foundation is laser-focused on ending generational poverty in families for good. By taking a 'whole student' approach The Challenge Foundation not only offers education and mentorship to students but guides them from milestone to milestone with the never-ending support they need.  With mentorship, opportunities, and support, children can learn more about the world around them, real-life skills, and learn about who they are and their unique talents and abilities.
The Valley Guardians are proud to partner with The Challenge Foundation. Together we are helping children to reach their full potential and guiding them to a better future.
About The Challenge Foundation
The Challenge Foundation takes a unique and effective approach to change the course and direction of a child's future. By tapping into their talent and potential they guide and mentor children from 5th grade all the way until they graduate from college. Helping them through all of life's hurdles, and guiding them through milestones and trials. By doing so they can ensure that children can truly break the cycle of poverty by drastically changing a child's future.
"Our recruitment process begins in 4th grade.and the selection process takes about 6 months. We gauge and try to address as much as we can upfront with our candidatescandidates s; from motivation, and need, to  parent involvement. Once accepted, scholars begin their journey in 5th grade. This is more than a scholarship to a school. It's full support for over 12 years! Those who are selected often refer to it as winning the lottery." Julie Chisholm, Director of Scholar and Family Support, explained the selection process for Challenge scholars.
The Challenge Foundation helps smart, ambitious, and hard-working students break the cycle of poverty through educational opportunities. Challenge takes a whole-student approach, awarding tuition scholarships, and individualized support services to students from underserved communities. This unique and comprehensive approach includes a breadth of  services such as mentoring, individualized case management, counseling, tutoring, college preparedness, and service-learning.
"We work hard to make sure that students are allowed to be kids, something that a lot of children in under resourced families don't get to experience. We want them to focus on themselves, hobbies, interests, and experience as much of life as they can! With the help of our program, mentors, and more we can ensure that children can maximize the opportunities created together. "  said Pam Fronk-Cole, Executive Director, Phoenix, on the importance of The Challenge Foundation Program.
Two Groups, One Mission
The Valley Guardians and the Challenge Foundation, know that many children from low-income families are full of potential. Unfortunately, many children from low-income families experience high dropout rates from school and continue the cycle of poverty. If given the opportunity to overcome the barriers to success, these children can truly unlock their potential!
"Both of our organizations have seen it first-hand and know that there is so much raw and untapped talent. What makes our programs so unique is that we are truly giving them the opportunity and ability to use that inherent talent that exists." Pam Fronk-Cole enthusiastically explained about  the scholars in  The Challenge Foundation program.
The Challenge Foundation, offers education, mentorship, and leadership opportunities to students from 5th grade through college helping each step of the way. With the help of the Valley Guardians, they can award full-ride scholarships and support services to under-resourced students to attend prestigious private middle schools and college preparatory high schools. Currently, The Challenge Foundation is supporting over 49 scholars, their largest class yet!
"Our goal is to level the playing field and give equal access to opportunities and  resources that these children otherwise would not have . With the Valley Guardians, they believe so much in the impact and scale we can have to truly change the future for these kids. They truly believe in the mission and understand how unique and important it  is." said Julie Chisholm.
Together, The Valley Guardians and Challenge Foundation are empowering kids with the tools to succeed so we can end generational poverty for good.
Mentoring The Future
Before The Valley Guardians began,  many of our board members were already serving as mentors for The Challenge Foundation.
Mentors play an extremely important role in The Challenge Foundation. The mentor partners with the student, their family, and Challenge to provide on-going support, encouragement, and meaningful experiences for their mentee.
"Loren has been a mentor for several years now; , anytime we asksomething from our mentors, he is  one of the first to respond or rally his network to help us meet our goal. He is always recruiting others to mentor and get involved in what we are doing. Every mentor you ask says they get more out of it than their kids do." said Julie Chisholm.
Mentors help guide and support their mentees throughout their enrollment in the Challenge Foundation, meaning that they work with their mentee for over 12 years. Aside from supporting a scholar, they build lasting friendships, build their network, and get to be personally involved with their mentee and help guide them through life.
"For many of these kids mentors offer another chance to experience and learn more about the world around them. Many of these kids haven't been out of their neighborhood, let alone out of the city. Their mentors give them some real-world experience and opportunities to be kids. The mentors offer outside support that inspires and motivates the kids to keep working toward their goals." voiced Pam Fronk-Cole.
The Challenge Foundation is continuously adding new mentors to its program as it adds more and more scholars! You can learn more about mentorship opportunities here.
Giving Back To The Community
The Valley Guardians and The Challenge Foundation, are working together to build a better future in Arizona. Along with the educational support and mentorship, the scholars actively participate in a service week to give back to the community. For many of the scholars, service week is described as one of their favorites of the year!
From building and growing a community garden, working in food kitchens, building homes, and many other charitable works the scholars and their mentors get to give back to the community and understand they can help their communities.
"The Valley Guardians care SO MUCH. Not only do they financially support us, but they are also the ones handing out the turkeys, wrapping the presents, mentoring our kids, and showing up!  It's really special that they are so invested in the groups they are serving, providing much more than just a check.  They are involved, focused, and invested in  helping our community in a real and tangible way. That's what makes the Valley Guardians unique and special. They are personal and accessible to all of us at The Challenge Foundation." stated Julie Chisholm.
The Valley Guardians believe that every cent raised should go directly to helping children reach their full potential. We understand that children deserve every chance at success, and make sure each donation goes directly to the children. That is why The Valley Guardians have a $0-dollar operating budget, so your money goes directly to the future of the children of our community.
"Connections between people are what makes us tick and when you find someone who is similar or optimistic about your goals, it's like magic. The gift from the Valley Guardians mentorship and financial support has really made us who we are. We don't exist without their support. The health of our organization is dependent on them and we are so incredibly grateful for their support. I don't know how to express it. We talk to our families often about how it feels like we won the lottery." gushed Pam Fronk-Cole about the mutual support of our organizations.
The Challenge Foundation is changing the course and futures of many children right here in Phoenix. With their carefully thought out, and well-executed programs they are giving children a gift to reach their full potential, love, support, and guidance they need to transform their lives together. They are changing the lives of children forever with their amazing programs and we are constantly inspired by the amazing work that they do. You can learn more and donate to The Challenge Foundation here, and help us end generational poverty, one child, at a time!