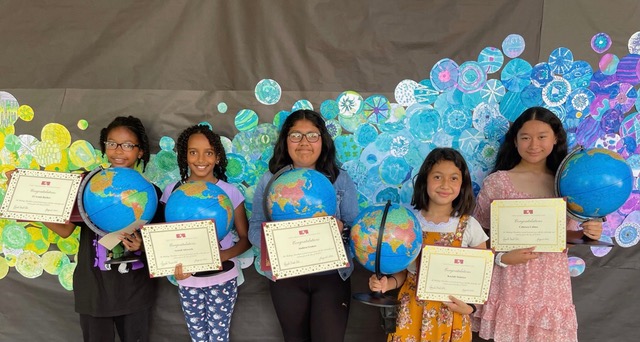 Valley Guardians have been hard at work to ensure that children here in the valley have the tools they need for success.
Thanks to the various programs we can provide the best education, mentorship, financial and medical assistance. Today we welcome new scholars, college tours, and thanksgiving prep the Valley Guardians have been hard at work to ensure this will be the most impactful year yet.
Endless Possibilities
The Valley Guardians believe the best way to make a lasting impact for at-risk children is through education. That is why we are excited as ever to introduce our latest scholars supported by your donations to the Challenge foundation.
The Challenge Foundation recently celebrated their newest class of scholars, with each presented with a globe. The globe is presented to every new Challenge Foundation scholar as a reminder that the possibilities are endless and the journey is theirs to craft. Each scholar also receives a certificate, officially announcing their title as a Challenge Foundation Scholar.
With the Challenge Foundation, The Valley Guardians help level the playing field and empower the next generation to achieve their biggest dreams.
College Prep
The Valley Guardians Executive Leadership Program organized an engaging ASU Workshop and Tour on Saturday, October 16 that had over 20 students in attendance. Students were able to build their social network and learn how to navigate the two most difficult challenges in college [balancing life and finding a group to connect with] through team leadership activities.
They went on an amazing tour with Access ASU. Students were able to visit the prestigious Barrett, The Honors College, Ira A. Fulton Schools of Engineering, the fitness center, and much more. At Valley Guardians, we help them look ahead to get more prepared for the next step of their life!
Thanksgiving
With each passing day, the holidays are closer than ever.
The Valley Guardians Santo Nino Initiatives has provided over 18,000 Pounds of Food, 2000+ Christmas Presents, and 600 Back to School backpacks for children in need, in the past few years.
As always, we are continually blown away by the support of our donors, and our volunteers. This year we are planning to deliver holiday meals to over 500 families in the Santo Nino community.
If you would like to see first-hand how your donation is making an impact, you can donate here!
Thank You For Being A Valley Guardian.